Chernobyl Liquidator Konstantin Slav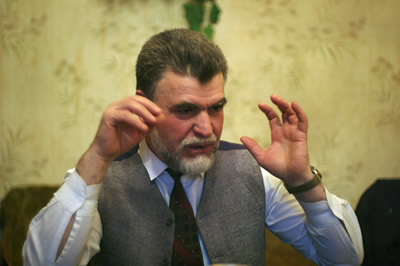 Slav Konstantin Nikolayevich was born in a large family. The eldest of 7 children he tells us how he felt a responsibility to help raise his younger siblings. A responsible man who now relies on the love and hard work of his family to carry on as long as he can. Now with grandchildren Slav tells us how lucky he feels to still be alive; "every day liquidators are dying of some disease or another" he say's, "each day I fell blessed to still be here watching my grandchildren grow up".
Although Initially trained as a teacher Slav with all his responsibility needed to maximise his income and do as much overtime as possible and it wasn't long before the coalmines beckoned. His large family were poor and as his father had died when he was a small child the so the burden of responsibility to earn money and put bread on the table was his from a young age. In 1973 he began his army service but in September 1987 Slav was called to perform military duties at the Chernobyl power plant. He was to become one of the many now infamous "Liquidators".
>Looking at Slav and other liquidators it is difficult to understand how much their health has been destroyed. Well-dressed and groomed Slav shows no outward signs of illness, as it's inside that the radiation has taken its toll. "I take a combination of drugs, the cheapest ones are the only ones I can afford, it's not what I'm supposed to take but I do not have any other choice". Slav, like other liquidators lives on a measly state Chernobyl pension of $100 per month. Hardly enough to buy food and pay bills never mind buy drugs and pay for operations. "If it wasn't for my family and my family hard work I would simply not be here," he explains.
"Our battalion was removing the water from around the reactor which had been used to dampen down the fires. This water was extremely radioactive. But had to be removed to allow us to hollow out the concrete and use jackhammers to to remove the lead, and then put in new to concrete. In some cases the radiation was so high it was necessary to repeat the work two or three times ".
He begins to tremble and tears well in his eyes and its clearly very difficult to talk about this time but he carries on; " we collected and dumped radio-active materials from the roofs of the plant into the base of the sarcophagus called the "burial grounds" and it was around the burial grounds that the sarcophagus was constructed".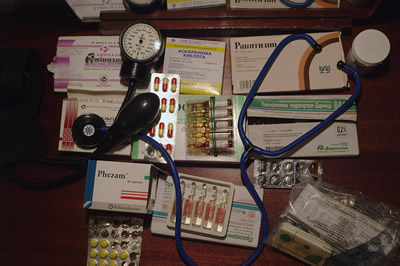 Despite multiple health problems & numerous diseases effecting the brain, nervous system and digestive system, Slav is still trying to work. He doesn't tell anybody at his workplace that he is liquidator and he requires serious medical care & observation. It seems extraordinary but it seems to be a recurring theme that employers will fire men if they realise they were liquidators.
Chernobyl is a taboo subject in Ukraine and being a Chernobyl victim does not win you any favours. Slav and others like him suffer not only enormous challenges to their health but they also face being stigmatised by their own communities.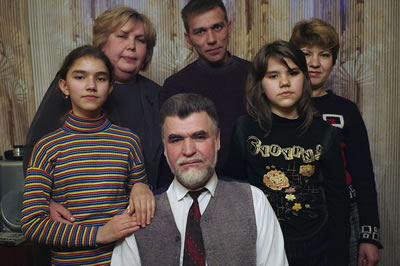 You can make a difference to Konstantin's life and his family by making a donation to us. Your contribution will help purchase the drugs and operations Konstantin needs.