Chernobyl Liquidator Alexander Antymonjuk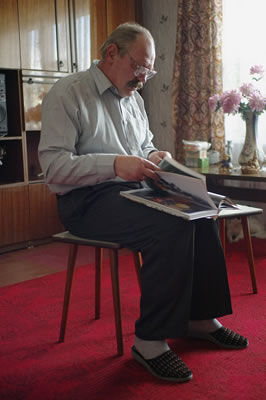 Antymonjuk Alexander Anatolevich was born in the Makeyevka district of Donetsk in March 1954. He completed a programme of study at college where he gained a qualification in Industrial electro-mechanics.
In 1972 he went to serve in the army "Boundary Armies" and after this service he went on to work in the coal mines. During this period he was repeatedly injured and in 1975 he was paralyzed for 8 months due to damage to his backbone in a mining accident. In 1982 Alexander twice found himself trapped when the mines collapsed, blocking the exits. Fortunately he was rescued by his workmates. He explains that many others were not as lucky as they died of their injuries or could not be rescued in time. He subsequently left the mines and bagan a career as a mechanic in Nuclear stations and after his formal training he began working on Zaporozhye Rovno Nuclear station.
In 1987 he was called up to work at the Chernobyl power plant. 66 days of shift-work at the plant followed. Merely 2 months of service which was to ruin his health for the rest of his life.
During our interview Alexander explains how he has coped with his illness and how it has affected his family. It seems remarkable that he is still alive against all the odds and with so little support he has even turned to alternative medicine as conventional drugs are too expensive with his measley pension.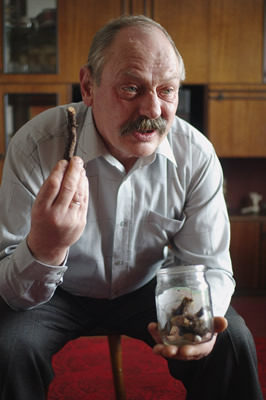 Root medicine is a cheap alternative, but effective?
Alexander's family has arrived and food and drink is prepared for our visit. Everyone has a story to tell, everyone is affected in some way. "There is no recognition or support for what my husband did" explains Alexander's wife. "He can not work anymore, we support him all we can but we can not afford to pay for the operations and drugs he needs". Remarkably everyone in the family has a steely resolve to carry on as best they can.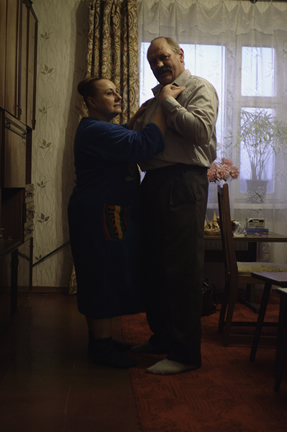 A local support group has been set up by Chernobyl victims and although it offers no financial support or medical help, the social occasions provide a crucial diversion and opportunity to share problems.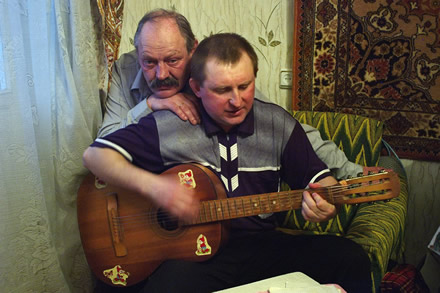 Chernobyl comrades sing the "Chernobyl song"
You can make a difference to Alexander's life and his family by making a donation to us. Your contribution will help purchase the drugs and operations Aleksander needs.