The organization "Chernobyl Union" of Tokmak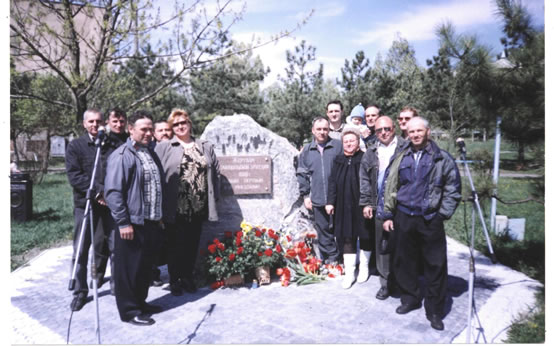 The organization "Chernobyl Union" of Tokmak was created in 1996.  It represents the interests of 267 Chernobyl victims in the Tokmak area, of whom 29 were plant workers suffering from diseases related to the disaster, 78 were children permanently relocated here after the disaster, and 189 were disabled liquidators who assisted with the containment of the disaster.  29 have already died.
The Chernobyl Union of Tokmak is a volunteer organization created under the motto, "Humanity and Mercy".  It is legally registered, and possesses official seals and stamps, as well as an official charitable bank account at "Privatbank".  Its goals are the mutual aid of Chernobyl victims, and the protection of their social, legal, and economic interests, and accomplished by rendering material and moral support.  Such efforts have now been underway for over ten years.
Under the supervision of chairman Ludmilla Gregorivna Butenko, a monument to Chernobyl victims was established in Tokmak's central district, which has become for all the city's residents a sacred place.
With each passing year, the lives of Chernobyl victims becomes harder and harder.  They struggle to overcome a whole variety of illnesses linked to their radiation exposure.  Unfortunately, the national government continues to ignore many of their needs, especially the liquidators, who rescued not just Ukraine, but the whole world from a larger nuclear disaster.  Indeed, Chernobyl continues to affect the life, health, and well-being of all the world's people.
Today, these Chernobyl victims find themselves in a very serious moral and material crisis.  The law of Ukraine relating to the status and social protection of those injured in the Chernobyl disaster, has only been funded to twelve percent of its initial commitment.  As a result, many programs have been totally discontinued.  The miserable pensions on which the victims must live require that they make decisions between food and medicine.
It's very difficult for our hospital to survive during these hard times. We can't fix the rooms for Chernobyl victims at the central region hospital; we need to purchase refrigerators (2), bed cabinets (4), chairs (2), pillows (4), blankets(4). Those pillows and blankets that we use already smell the dead. Our hospital is about 40 years old so these pillows and blankets are almost as old as the hospital.  So each pillow has probably had a thousand Tokmatch citizens who died on it.
Also we need to find a sponsor who could make a gift donation to provide our organization with a new computer. We just can't work any more as we are doing now without a computer. All the documents and blank forms are required to be made on computer and we have to run about city asking for anyone who could make a blank form or any other document for us on the computer.
Chernobyl Union of Tokmak
12 Schevchenko Street, Number 67
Telephone 38(06178)26745
Email: butenkol@mail.ru
Charitable Bank Account
Tokmak "Privatbank" 313399